When it comes to bumpers for a jeep, having the people who accept your packages tell you "I could hardly pick it up" is a good thing. I ordered a 54" single hoop bumper from TKH FAB as soon as I decided to replace the beer-can factory front bumper. From the start I intended on mounting a couple of 8" driving lights inside of the hoop. After talking with Terry, I was confident that this would be possible.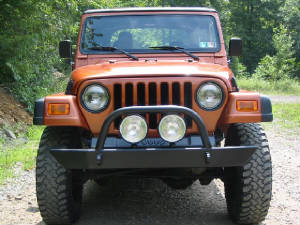 After removing the factory front bumper, I used my trusty rustoleum satin finish spray paint to touch up the front end of the frame. This is a good idea because the new front bumper will reveal much more of the frame than the stock one did. I found more rust than I care to admit, especially around the bolts that secure the power steering pump. The front shock towers were looking pretty bad as well.
The front bumper comes shipped with a coat of black spray paint. Although it looked good enough to install and call it a day, I decided awhile back to stay true to the satin finish spray paint whenever possible. So, I wet-sanded the bumper and wiped it clean with laquer-thinner. I then applied several light coats of the satin spray paint.
Installation was simple, easily a one-man job. I replaced all six of those bastard torx-head bolts with grade 8 bolts and washers (1/2"). Here's a tip, start with the two bolts on the underneath.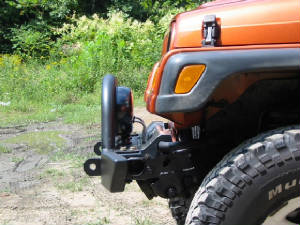 The driving lights required a little more effort.
Not so much bolting them to the bumper, but wiring them up.
I decided on Pro Comp explorer 130 watt 8" lights. They're affordable and they do the job. Unfortunately, they come with NO wiring. This means you have to buy the toggle switch, relay, wiring, and connections. I used those heat-shrink connectors whenever possible.
-The toggle switch: I went with a solid looking, metal, on/off toggle switch. I mounted it in the middle of the 3 unused panels above the cigarette outlet. It took some dremeling to fit it in there.
one wire is connected to a 12v source (i just tapped in to my cb power wire because it was easy and fused as well). The other wire you run thru the firewall and to the relay
-The relay. I used a basic 5 prong relay.
(1) power from the battery, with an inline fuse/circuit-breaker in between
(2) input from the toggle switch
(3) ground
(4) left driving light
(5) right driving light
There is a nice space in the engine bay fuse box to mount the relay.